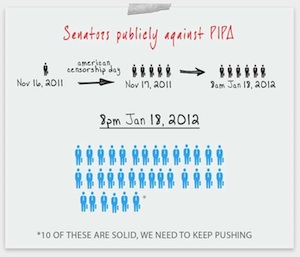 A message from MoveOn.org:
Last week's Internet blackout was historic
because of your activism and the millions of others who spoke out strongly against Internet censorship.
1
Our voices were heard loud and clear through major media coverage of the blackout.
What did we accomplish?
Senate Majority Leader Harry Reid indefinitely postponed this coming Tuesday's vote on the Internet censorship bill in the Senate, the PROTECT IP Act.
2
Ten million people spoke out online to reject Internet censorship and drowned out the lobbyists who thought they could get whatever bill they wanted passed only a few months ago.
3
The blackout proved that the energy, enthusiasm, and influence of real people contacting Congress is stronger than anything lobbyist money can buy.
This week's Internet blackout was a success, but there's more work to do. As long as these Internet censorship bills are being considered, we'll keep fighting. Stay tuned.
–
Garlin, Eli, Ryan, Elena, and the rest of the team
Want to support our work?
We're entirely funded by our 5 million members—no corporate contributions, no big checks from CEOs. And our tiny staff ensures that small contributions go a long way.
Chip in here
.
---
PAID FOR BY MOVEON.ORG POLITICAL ACTION, http://pol.moveon.org/. Not authorized by any candidate or candidate's committee.